American Legion Post 64, located in Salisbury, Maryland and centered in the DelMarVa Peninsula, takes pride in sponsoring the local American Legion Baseball team. The Post membership, the coaches, and the players subscribe to the four unchanging goals of the American Legion Baseball Program:
* To inculcate in our American youth a better understanding of the American way of life and to promote 100% Americanism.
* To instill in our national youth a sincere desire to develop within themselves a feeling of citizenship, sportsmanship, loyalty and team spirit.
* To aid in the improvement and development of the physical fitness of our country's youth.
* To build for the Nation's future through the development of our youth.
The American Legion Baseball Patch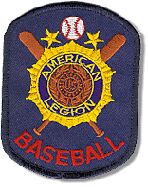 Post 64 Blue Sox Have Successful Season at Mid-point
At approximately the 2006 Season mid-point, the Salisbury Post 64 Team has shown steady improvement. Competition in both league and non-league games have presented many challenges to which the local team has responded.
F/R-L/R: Bounds, Schoffstall, Rodriquez, Somers, Boswell, Laird, Rodriquez-Head Coach
M/R-L/R: Hollamon-Asst Coach, Truvits, Brown, Prestileo, Johnson, Dorsey-Asst Coach
B/R-L/R: Davis, Records, Green, Evans, Zawacki, Palmer, Kissner-Manager.
(Missing: Seth Illian and Myles Illian)

LATEST HEADLINES

* Click here for Highlights
Palmer and Records support Zawacki in Post 64 shutout win *
Schoffstall throws complete game in victory.
Blue Sox have 2 and 2 record from the Cecil County Baseball Tournament *
Green and other Post 64 players receive high school honors *
Boswell and Schoffstall shut down Talbot Post 70 *
Zawacki throws 2 hitter in loss to Dorchester Post 91 *
Post 64 wins game against Talbot Post 70 with Brown leading the offense *